Skip to Content
Electrical Panel Services in Cranston, RI
Electrical Panel Installation, Upgrade, Repair & Replacement
In the age of laptops, tablets, smartphones, and smart appliances, the constant use of gadgets and devices can put a drain on older electrical systems. At B&K Electric, our Cranston, RI technicians understand the pressure devices put on electrical systems and how to resolve the problems.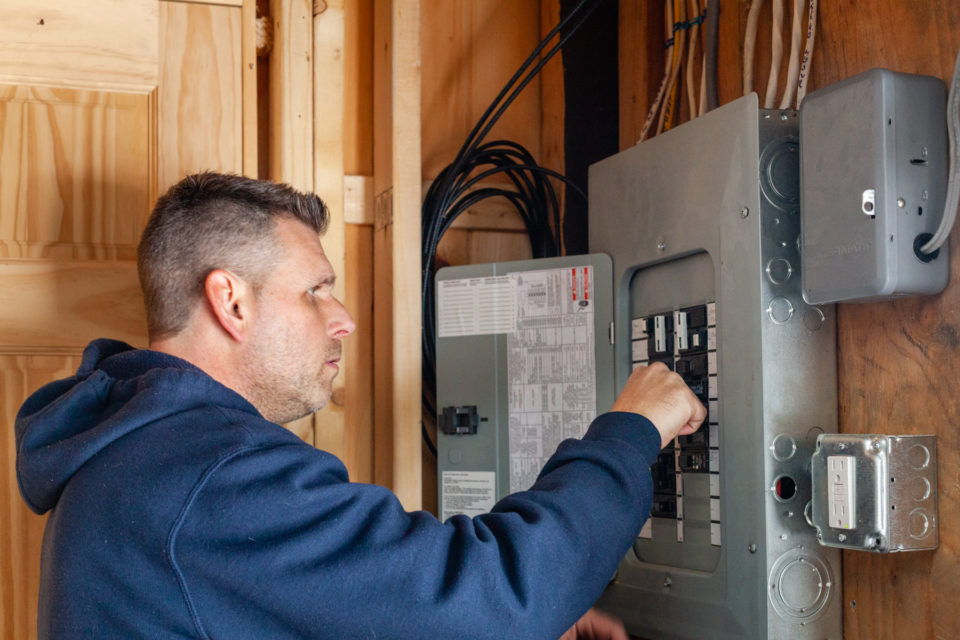 Electrical Panel Services
The added demands of technology and high-energy appliances force electrical systems to work harder than they were intended to work. The result is that the main electrical panels end up breaking down. To prevent the problem, your system must get electrical panel upgrades. If the system fails before it is upgraded, you will need an electrical panel repair. Whether you need an electrical panel upgrade, repair, or replacement, our expert technicians can provide the necessary services to improve the safety and functionality of your main electrical panel and your entire property's electric system.
What a Main Electrical Panel Does
In the most basic terms, an electrical panel is a central point that connects the wires from outside to the wires inside your home. Also known as the main breaker or fuse box, this important component takes the electricity provided by your electric service provider and divides it into several circuits to distribute power to your home. Most panels will have a series of switches for these circuits, known as circuit breakers. When one of them is tripped, you'll need to flip the breaker off and back on to restore power. Usually, this panel is found in the garage, basement, or utility room.
Main Electrical Panel Replacement
An outdated electrical panel can overload your system, weaken power to lights, damage appliances, and create a dangerous situation. While older homes usually have 100-watt panels, newer homes generally have 150 or 200-watt panels to keep up with the demands of modern appliances and devices. Our team can upgrade and adjust your panel to a higher wattage to ensure the optimum power levels for your home.
Electrical Panel Installation and Repair
There are several signs to look for that indicate it's time for an electrical panel repair or upgrade. If your electrical panel is warm, has an odor, is showing signs of water damage or corrosion, or if your lights are dimming often, you should have your panel evaluated by a licensed electrician. These are all signs that your panel may not be installed properly, is being overloaded, or is defective. If you are noticing any of these signs, contact us so that one of our technicians can examine it, and advise whether your panel should be repaired or replaced.
At B&K Electric, all of our panel upgrades and new breaker panels come with a lifetime warranty, so you know you can rely on them for years to come. Additionally, any initial issues will be fixed for free within the first 48 hours.
Why You Should Have Your Electrical Panel Inspected
In general, an electrical panel should last about 25 years. Over time, water seeps in through the outside wires, affecting your breakers. An inspection by a B&K electrician is important to see if improvements could be made to your system to ensure the ideal distribution of electricity throughout your home to properly power your appliances and home entertainment devices. In addition, our electricians will verify that your panel is properly labeled and up to code, so that you know your panel is functioning safely.
Make Sure Your Home Has Enough Electrical Capacity
It's important that your electrical panel has enough capacity to fulfill your home's energy needs. Overloading your circuits can create a dangerous situation, so if you are adding a new appliance or building a new addition to your property, it is also a good time for an electrical panel upgrade. At B&K Electric, we can add capacity to your existing panel, or upgrade to a higher capacity panel. We will work with your electric company to ensure any upgrades are up to code.
Contact Us Today
B&K Electric has been serving customers in Rhode Island for more than 20 years, so you can rest easy knowing your electrical panel repairs and upgrades are done correctly. Our family-owned and operated business is committed to quality work and customer satisfaction. If you have an old electrical panel, give us a call or use our online form so one of the technicians can inspect your panel and provide you with more information about our available services.