Skip to Content
Licensed Residential Wiring in Rhode Island
B&K Electric Can Handle All Your Home Wiring Needs
B&K Electric is a locally operated and fully licensed company that is here to cover all of your residential electrical wiring needs. Our services cover everything you need to get the most out of your home's electrical supply, including circuit panel wiring, electrical upgrades, replacements, and repairs. We offer fast response times to your needs and provide efficient services at the best rates to ensure you can get quality electrician services at an affordable price. Is it time to upgrade or add new electrical circuit wiring in your home? Contact us for a free estimate.
Comprehensive Electrical Circuit Wiring and Re-Wiring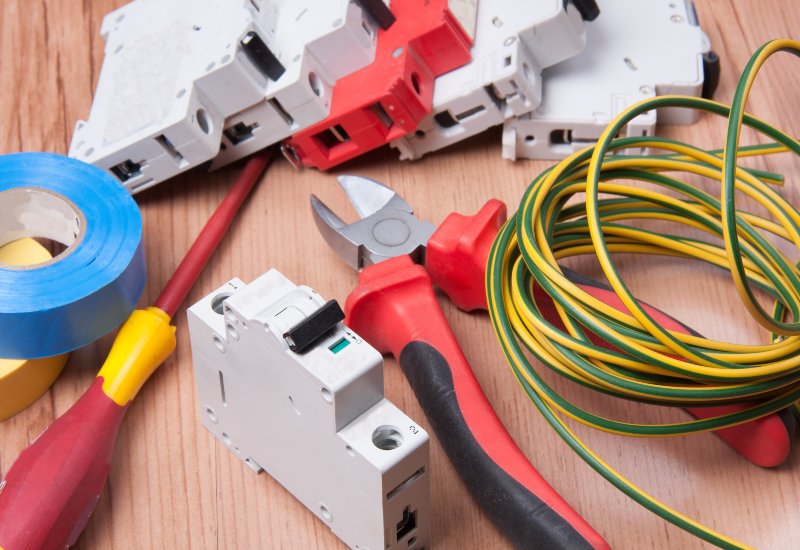 When wiring a house, it's essential to consider the number of circuits the property requires. Doing so ensures the electrical panel isn't overloaded and the power supply to appliances and outlets is safe. The needs of homeowners have changed over the years, and you might not have enough circuits to keep up with modern technology. Some older homes may have knob and tube wiring that needs to be replaced. Whatever your situation may be, we have the right house wiring solutions for you.
Installation – If you're putting an addition on your home, we can provide electrical installation to meet your needs.
Replacement – If your circuits or wiring is outdated, we can complete full electrical circuit wiring replacement and panel upgrades to meet current codes.
Repair – Whether you've cut through a wire during a home DIY project or a power surge has caused some damage, we can repair your electrical circuit wiring to get everything powered up again.
The Importance of Modern Circuits and Wiring
Electrical consumer demands have changed over the years, and as many homeowners look for alternatives to relying on fossil fuels, updated home wiring is more important than ever. From computers and TVs to HVAC and appliances, modern technology and houses call for more electricity than they once did. Most newer homes require a 200-amp panel to meet these demands. Some older homes might be equipped with outdated panels that can only handle 100 amps. We can upgrade your main panel, add a sub-panel, and update wiring to ensure your outlets and appliances have the power feed they require and operate safely.
Proper Circuit Wiring for Appliances
Some home appliances require specialized wiring and dedicated circuits to operate effectively. Most of the electrical outlets around your home and the electronics you plug into them are 120 volts. This includes TVs, lights, coffee makers, and most computer equipment. Larger appliances, such as an electric oven and range or clothes drier, require a 220-volt outlet. The prongs of the plugs on these appliances are shaped differently. Our team can ensure you have the proper dedicated outlets for these in your electrical panel for safe operation following all required codes.
Reasons to Use a Professional Electrician
Our team is made up of licensed and experienced technicians providing top-notch services that cover all of your residential electrical needs. When it comes to updating or adding home wiring, safety precautions and building codes must be followed to ensure it is done properly while avoiding hazardous situations. Our work is guaranteed to pass home inspections, and you can sleep with peace of mind at night, knowing all work has been completed by professionals in the trade.
Can I Do Electrical Wiring on My Own?
While DIYers might be able to do some home electrical work on their own, such as changing a light fixture or switch, wiring a home should be left to professionals. Electrical home improvements are a huge benefit, but only if completed correctly. Anything not done by a licensed professional could become an issue if you try to sell your home or be the source of a dangerous situation.
Common Reasons to Rewire a House
You might be wondering why electrical circuit wiring would have to be redone if everything seems to be working fine. Common reasons include:
Outdated wiring, such as knob and tube
Overloaded electrical panel
Hot switches or outlets
Aluminum wiring
Buzzing sounds
Damaged insulation
How Do Electrical Wires Work?
Electricity is the flow of electrons. Electrical wires give these electrons a low resistance path to travel along towards an outlet or a plugged-in appliance. The wires are made of metal because they are the best conductors for electricity. These metal wires are coated in insulation to keep the pathway, and electrons traveling through it, contained within the wires.
Should I Get My Aluminum Wiring Updated?
Metal is the best conductor for electricity, so it is used in electrical wiring. From the mid-1960s to the 1970s, aluminum was used in wiring. However, due to repeated changes in temperature, aluminum turned out to be prone to losing its shape and structure. Copper is a much safer and more reliable wiring material. If your home currently has aluminum wiring, it should be replaced.
Get a Free Estimate for Electrical House Wiring
While replacing the electrical wiring in your home might sound like a big undertaking, the professionals at B&K Electric in Rhode Island will ensure the job is completed efficiently with as little disruption as possible to your daily life. Is it time to upgrade or add new electrical circuit wiring to your house? Contact us for a free estimate today.
Call us today for residential services!