Skip to Content
B&K Electric Services in Rhode Island
Swimming Pools & Hot Tubs Electrical Repair in Cranston, RI
A swimming pool or hot tub is a great way to add enjoyment to your property while also increasing your home's value. There's nothing like a swim to cool off in the summer or a hot soak for tired muscles. To get your full enjoyment out of the water, it's important that your pool or hot tub are properly installed and maintained. Worn or faulty electrical work can impact the function of your pool or hot tub, as well as potentially create a dangerous situation. That is why you want to put your trust in the experts at B&K Electric for all of your swimming pool and hot tub installation and electrical repair work.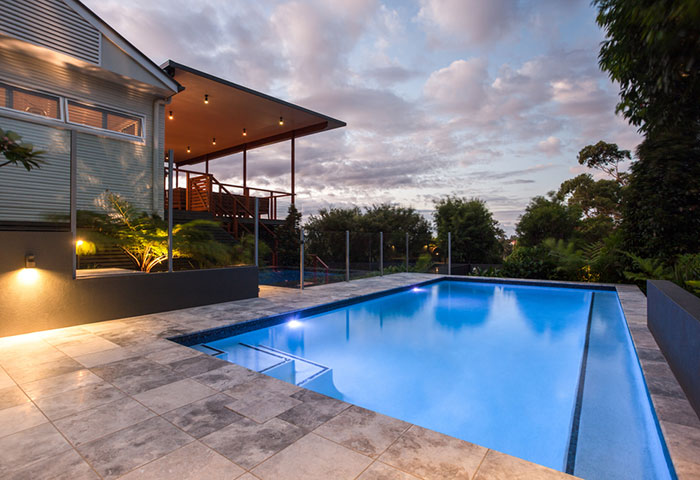 Swimming Pools & Hot Tubs Electrical Repair Services
Don't risk an electrical shock by trying to repair electrical equipment around water. This is a task best left to the experienced technicians at B&K. If the electrical system in your swimming pool or hot tub is in need of repair, we will get your system functioning properly while ensuring it is up to code.
Swimming Pool & Hot Tubs Installation Services
The best way to avoid repairs to your swimming pool or hot tub is to make sure the electrical system is properly installed the first time. Our licensed, bonded, and insured electricians are knowledgeable about safety standards and local building codes. We will make sure all wiring is protected from water and heat, and fully test your system so you can enjoy your pool or hot tub without worry.
Common Electrical Problems in Pools & Hot Tubs
Swimming pools and hot tubs have complex electrical systems, and components can fail over time or due to faulty installation. If you are experiencing any of these issues, do not attempt to repair the electrical system yourself. Contact us and one of our experienced swimming pool and hot tub electrical repair technicians will get your system up and running again in no time.
Pumps: Many issues with pools and hot tubs are caused by pumps not working properly. Our electricians can check for loose connections, a faulty board in the power motor, and other common problems.
Filter: A malfunctioning pump can cause buildup that clogs your filter. Conversely, a filter that is not properly cleaned and maintained can cause issues with the pumps and other components.
Heater: If your hot tub isn't hot, your heater is the likely culprit. Faulty heating elements, corrosion, or other damage can cause your heater to malfunction.
Bulbs: Replacing a bulb underwater is not like changing the bulb in a table lamp. Bulbs in your pool or hot tub can burn out due to fixture leaks, a broken switch, a short in the wire, or issues with the breaker panel. If your bulbs are burning out often, your fixtures may need to be replaced.
GFCI Breakers: Ground-fault circuit interrupter (GFCI) outlets are a required safety feature that shuts off the electricity to the outlet in the event of a ground fault or short. However, if the breakers are getting tripped often, an electrician will need to determine the cause.
B&K Electric Ensures Safety
We are committed to providing swimming pool and hot tub repair and installations that exceed industry standards. Our experienced electricians will ensure that all of your electrical systems are safe and up to code. We will troubleshoot your electrical systems and ensure the grounding, wiring, and outlets are installed properly. Whether you are looking to have a system installed for a new pool or need help with hooking up a hot tub, give us a call. Proper wiring around water should always be entrusted to the experts.
Why Choose B&K Electric
B&K is a family owned and operated business that has been serving Rhode Island for more than 20 years. We are proud to offer quality installation and repairs along with unparalleled customer service. See for yourself what some of our 1,200 customers a year have to say about our services.
Contact Us Today
Looking to have a swimming pool or hot tub installed? Having issues with existing electrical systems? Call us today or use our online form to schedule an appointment and get more information about our swimming pool and hot tub installation and repair services.