Skip to Content
Car Charging Stations in Cranston, Rhode Island
Electric Car Charging Station Installation
Electric car charging stations are revolutionizing the auto industry and helping reduce our carbon footprint. There are many publicly available electric charging stations, but it's essential to be able to charge your car battery in the comfort of your own home. A licensed electrician must install a car charging station with a specifically designed electric car charger and a large volt circuit. B&K Electric provides car charging station installation in Cranston, RI. As a family-owned and operated electrical business for over 20 years, we proudly provide home wiring, electrical repair,  and electrical panel maintenance and installation. We ensure fast and reliable service for your electrical charging station.
What Is an EV Charging Station?
An electric vehicle operates with a battery. The car cannot move unless the vehicle is charged. An EV charging station quickly and efficiently charges your car's battery by converting an electrical current from your house into an electrical flow for your battery. We'll equip your home's electrical system to handle this type of electricity.
Electric Vehicle Charging Station Placement
A charging station for your electric car should go where you park. If you park in your garage, we can easily install your charging station inside. We will designate a safe outdoor spot for your electric charging station if you park outside.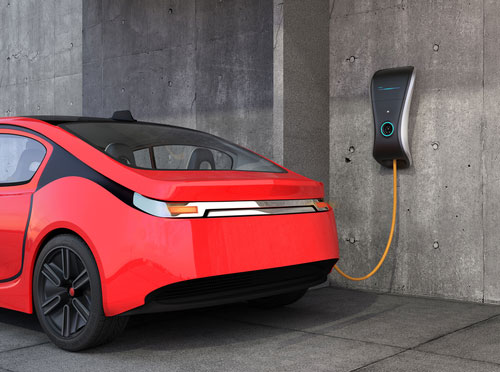 Benefits of Charging at Home
There are many benefits of charging your car at home. You'll pay an upfront cost for the installation of your car charging station, but you will save money by having your own charger. You also get peace of mind knowing you have a safe charging station. Relying on a public charging station is more costly than your home charging station.
EV Charging Station Options
We install three different types of electric car charging stations. We'll help determine the best one for your needs. The types include:
Level 1 – Level 1 electric car charger can plug into a 120-volt wall outlet. Level 1 charging is for hybrid vehicles with small batteries or golf carts.
Level 2 – Level 2 electric car charges need to be installed with a 240-volt circuit for a fast and reliable charge. This level is perfect for vehicles that range from 25-60 miles driving range per hour charge.
Level 3 – Level 3 electric car chargers are also called DC fast chargers. Level 3 chargers are used for long-distance driving. They require a 440-volt circuit and can get up to 250 miles of driving range with a one-hour charge. These are most commonly found in industrial or commercial locations.
Trusted Contractors in Rhode Island
B&K Electric is proud to be your trusted contractor in Rhode Island. Our experienced team of technicians has worked together for over two decades. We pride ourselves on being reliable, affordable, and always on time. We understand electricity is serious and must be respected. We'll treat you like family while giving you the highest level of service. Check out our reviews for more information on our electrical services.
Contact B&K Electric Today
When you need a reliable electric car charging station that you can trust, contact B&K Electric. We offer three-star pricing for our five-star services. We'll ensure your charging station meets your vehicle's needs. From installation to inspection, we'll explain each step of our service. Our other specialty work includes electrical repair, electrical panel maintenance and installation, and TV wall mount installation. Give us a call today or use our online form to schedule an appointment.
Call us today for residential services!