Skip to Content
B&K Electric in Cranston, Rhode Island
Indoor and Outdoor Lighting
Electric lighting not only allows your day to continue once the sun goes down, it adds ambiance to indoor and outdoor spaces. Our skilled technicians in Cranston, RI can install, replace or repair lighting fixtures to help you beautify your home and reduce your energy bills. We offer a wide array of modern and energy efficient lighting options to complement your home décor.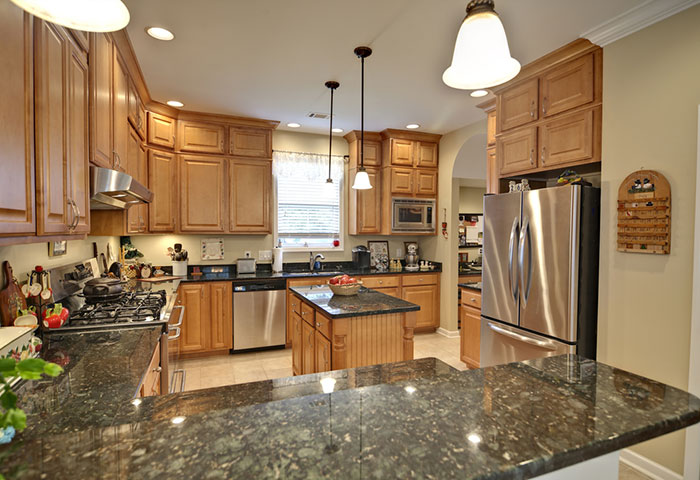 Upgrades, Installations, Retrofits, and More
At B&K Electric, we know everyone's tastes varies greatly. That's why we offer a wide range of indoor and outdoor lighting services for every style. If you have recessed lighting cans and old-fashioned spotlights that are racking up electricity costs, our skilled technicians can upgrade them to preserve the look and improve your home's energy efficiency. We can also retrofit old lights into LED lighting that cuts down on the amount of maintenance you'll have to do in the future. LED bulbs use a newer and more energy-efficient technology. They last longer and are cool enough to be safe to touch.
Why You Need a Professional Electrician
While it's easy to change a light bulb on your own, when it comes to lighting installation, you should leave it to the professionals. An experienced and licensed electrician will be up to date on building codes and know-how to install new wiring circuits safely. It's dangerous to trust electrical work to an amateur, and properly installed lighting can actually decrease your insurance premium. With so many options to consider when it comes to lighting installation, our technicians can recommend the right fixtures and bulbs to meet your needs.
Remodeling or Adding New Light Fixtures
Don't neglect your lighting fixtures when remodeling your home. New lighting fixtures and outdoor lighting can add a fresh and bright new look. Flex your creativity by choosing unique decorative elements, provide illumination to commonly used areas, and improve safety by keeping the interior and exterior of your home well-lit. Whether you want to add recessed or suspended lighting fixtures, or add path, deck, or motion-sensitive safety lights to your garden, we have functional and beautiful solutions to fit your needs.
Repairing and Replacing Electrical Fixtures
It's normal for electrical switches and lighting fixtures to wear out over time. Look to B&K for all of your professional electrical repairs, and know the job will be done right the first time. Whether you're noticing flickering lights with your old system, or are ready to upgrade to energy-efficient or LED lights, our technicians have the expertise to transform the lighting inside and outside your home.
How B&K Installs New Light Fixtures
Before installing a single fixture, one of our expert technicians will talk with you about your needs and suggest the best types of fixtures to fulfill your vision. We will go over the elements that many people fail to consider when choosing new lighting, and help determine the ideal placement. Our licensed and experienced technicians know how to safely and efficiently install fixtures that comply with environmental and building codes. Contact us today for a consultation, and find out how our wide array of lighting and fixture options can help upgrade the look of your home.
Contact Us Today
Give us a call today or use our online form to schedule an appointment. One of our technicians will be in touch shortly to provide you with more information on our lighting services.