Skip to Content
Get Help With Electrical Breakers in Rhode Island
B&K Electric Covers All Kinds of Circuit Breaker Work
If your home has old or damaged circuit breakers, give the electricians at B&K Electric in Rhode Island a call for fast and reliable services. We've been in business since 2007, offering residential and commercial electrical services of all kinds. We're locally operated to provide the attention you deserve but big enough to handle the most challenging jobs. Contact us for a free estimate today.
What Is a Circuit Breaker and How Does It Work?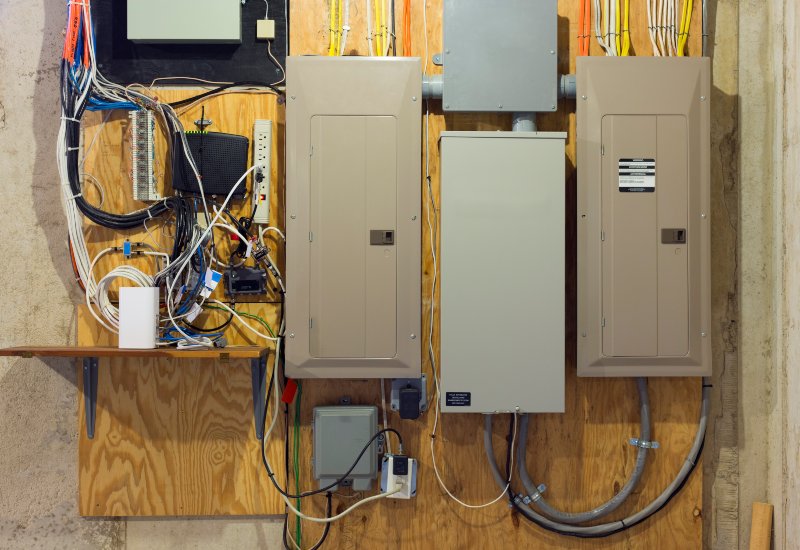 Every homeowner has heard about circuit breakers or a breaker box, but what does all this lingo mean? A modern electrical panel is filled with circuits that deliver electricity to the various outlets and switches in your home. Each circuit is armed with a circuit breaker allowing electricity to flow safely from the outside power lines to the circuits in the home. If a circuit becomes overloaded with too much power, the circuit breaker switch will flip off, essentially breaking the flow of electricity into the house to avoid damage or potential fire. Inside the circuit breaker panel, you can flip the breaker switch back on to restart the flow of electricity. In older panels, fuses were used instead of circuit breakers. They perform the same function, except that when a fuse trips, it can't be turned back on. It has to be replaced.
Different Types of Breakers for Different Uses
There are a few different types of circuit breakers found in buildings. Each one serves its own purpose and is used for specific reasons. We can help you understand which types should be used in your home.
Standard Breakers – Single-pole circuit breakers are the most common found in electrical panels. They are narrow switches and get their name because they monitor a single wire of electricity. If the wire gets too hot, the switch is triggered, moving it to the "off" position. Double-pole circuit breakers are also found in panels, and they monitor two wires simultaneously. These are identifiable by two switches connected together.
Ground Fault Circuit Interrupter (GFCI) – These breakers detect line to ground faults in electricity. You'll also find these types of outlets throughout the home. They are used in areas of the house considered wet, such as the kitchen, bathroom, or outside on decks or porches.
Arc Fault Circuit Interrupter (AFCI) – This is similar to a GFCI breaker, but they protect against electrical arcs and are now required in modern homes. In the event of an electrical arc, the heat generated can be so great that it can cause fire to the surrounding wood. This type of breaker eliminates that hazard when switching the breaker off.
Signs You Need to Repair or Replace Circuit Breakers
If you're having problems with your household electricity, the first step is to call a licensed electrician like B&K Electric so we can identify the issues and assess the proper repairs to make. We are experienced in all types of home electrical improvements. Faulty circuit breakers can cause a variety of issues. If there's one thing in your home you want to be sure is working correctly, it's the electricity to avoid any fire hazard or potential situation that could lead to electrocution. You might need new circuit breaker installation due to:
Old or deteriorating wires
Damage caused by external issues
Breakers that frequently switch off
Bad wiring in the electrical panel
Inability to reset a breaker
Visible damage to the breaker
How Much Does It Cost to Install a Circuit Breaker?
The cost of any electrical work will depend on the complexity of the task and the parts involved, as well as the time it takes to complete the job. After understanding what work your home needs, we can offer you a free estimate that will outline the costs.
Why Choose B&K Electric?
Our team is fully invested in providing quality services from the initial estimate down to the final details of the job. If you're looking for a personable and professional electrical company to take care of your residential work, we've got you covered. From knob and tube wiring replacement to indoor and outdoor lighting, we have an affordable service to offer. Our company is:
Family-owned and operated
A trusted local business
Experienced since 2007
Proud to offer free estimates
Fully licensed for electrical work
Schedule Service for Electric Breaker Installation
If your home in Rhode Island has electrical breakers that need to be installed or old ones to be replaced, schedule service with B&K Electric. We bring years of experience to every job and offer licensed services that meet current electrical codes. We can provide you with a free estimate, so you'll know how much the work will cost before we start. Contact us to schedule an appointment or call for emergency service today.
Call us today for residential services!